Cherry Tomato Pear  "Angelle"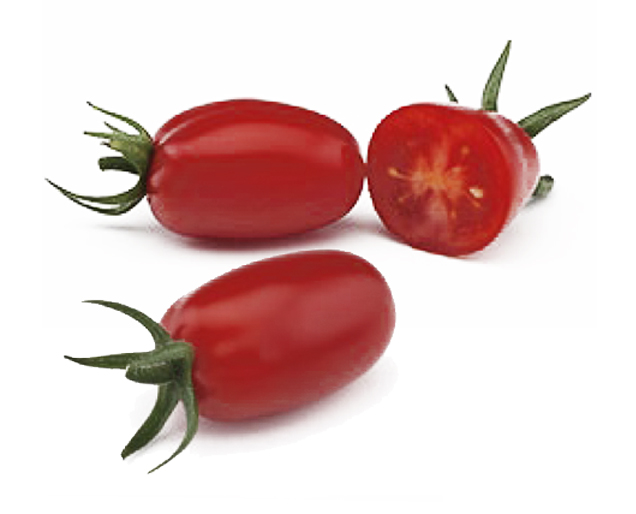 SNACK TOMATO
Bright red and crunchy is ideal to be consumed as a snack or as a decorative tomato.
PRESERVATION
It is a variety that is well preserved and that is why it is suitable for export.
FLAVOR
Its balanced and intense flavor makes it recognizable, it is the result of a perfect balance between its content in sugars and organic acids.
POPULAR
Its sweet taste and intense red color makes it highly valued by consumers.
Diameter
20 a 25 mm
25 a 30 mm
30 a 35 mm
| | |
| --- | --- |
| Preparation | Net weight of box |
| 6 x 250 gr | 1,5 Kg |
| 8 x 250 gr | 2,0 Kg |
| 7 x 300 gr | 2,10 Kg |
| 9 x 250 gr | 2,25 Kg |
| 12 x 250 gr | 3,0 Kg |
| 16 x 250 gr | 4,0 Kg |
| 18 x 250 gr | 4,5 Kg |
| 10 x 400 gr | 4,0 Kg |
| 4,0 Kg bulk bag | 4,0 Kg |
JANUARY

100%

100%

FEBRUARY

100%

100%

MARCH

100%

100%

APRIL

100%

100%

MAY

100%

100%

JUNE

100%

100%

JULY

100%

100%

AUGUST

100%

100%

SEPTEMBER

100%

100%

OCTOBER

100%

100%

NOVEMBER

100%

100%

DECEMBER

100%

100%
Bio Sol Portocarrero, SAT | Ctra San José KM 3. | 04117 Barranquete, Nijar, Almería – España.

Legal notice | Company policy