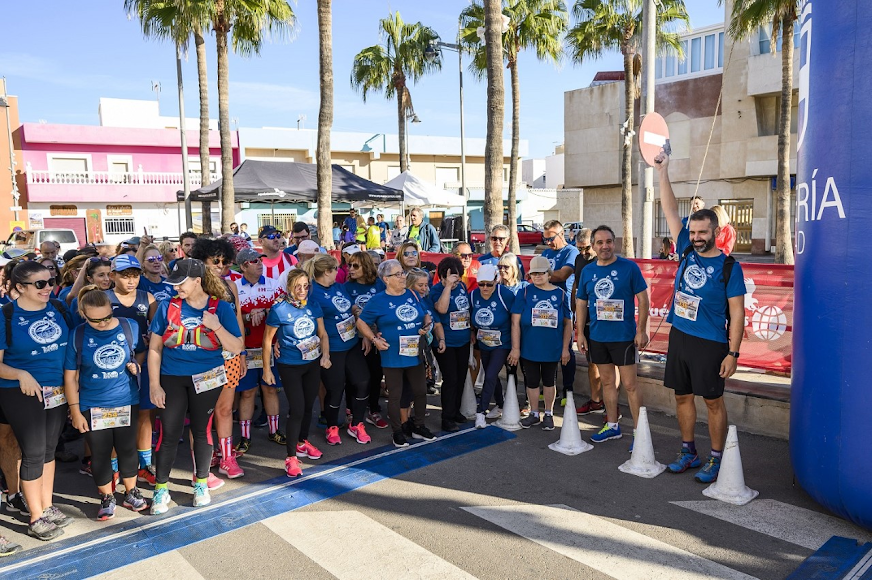 Bio Sol Portocarrero sponsors for the fourth time  the Flamenco Running Race Cabo de Gata, which is consolidated as one of the essential events in Almeria sports.
This year Bio Sol Portocarrero sponsored the fourth edition of the Flamenco Running Cabo de Gata, which was held on October 28 with the modalities of 13 kilometers of race for runners, 13 and 8 kms of hiking, and children's tests from lollipops, fry , children and cadet in Natural Park of Cabo de Gata-Níjar. Bio Sol Portocarrero   sponsored this event again that aims to enhance the environment of the Natural Park and raise awareness about the environmental care of this unique place.
On this occasion the race has had the support of the mayor of Almeria, Ramón Fernández-Pacheco, accompanied by the Councilor for Sports, Juanjo Segura, that have announced the exit and participated, along with several councilors of the Government Team, in the hiking test, enjoying, like the others, one of the most beautiful sports activities that are held throughout the year. Ramón Fernández-Pacheco has stated that "Flamenco Running is a race that has established itself in the city's sports scene. Few tests can combine both sports practice and the enjoyment of the best natural environment of the province of Almeria, aspects to which a solidary end is added because part of the proceeds will go to the association that fights against brain damage , the Brada association. So it is time to congratulate those responsible for the test, the club A We Attack, the Municipal Sports Board, volunteers and Almeria who have decided to come to Cabo de Gata and participate in this wonderful race. "
Emilio Martínez, president of the A Qué Atacamos club, which organizes the competition, says that "we want to thank the mayor, who is already the second year in which he participates, the Councilor for Sports and the town of Cabo de Gata, and for of course to all the sponsors ". And he adds that "this race contributes to publicize the natural park."
This year  Bio Sol Portocarrero group pioneer in the province of Almeria in organic farming since 1999, commemorates its 20 years betting on organic farming and commitment to the environment.